We are a gallery and toy gift store  now online . The art are toys and the toys are art. The curator of the toy gallery, Terri,  has been in the toy and then art business since 1982 and has used her past career experience to design a gallery space for the toy artist and toymaker to showcase their work.
Curator Statement:  In 1989 I was guest curator for the State of California History Museum in Sacramento for a show I created called "California Doll Artists Making History." This show was to be the springboard for me to open my own gallery of toy makers and artisans work. This was before the internet and the concept that toys could be art was alien but I was determined. Life stepped in…
Since this is 30 plus years later I have expanded my knowledge in the world of sales and retail, as well as with life experiences, which in these tough economic times should mean I keep my corporate sales job and be a happy… but  I want my dream before I'm too old to put in the labor and enjoy the fruits. I am now discovering single life again and the challenges and joys of living on my own with children grown! So here I am, back full circle ready to dive in. I represented toy lines and toy artists for 14 years, went to Disney Collectibles ( which I loved), moved to selling art and ended in ladies accessories. I am now combining the knowledge I acquired from all my past positions to promote toy designers and artists and help share this fabulous art that has had so little exposure in the art world. I have added vintage toys as well, for I have collected both and love to mix old with new, and as the gallery has expanded, the "gift" category has grown which is wonderful toys from around the world.
Mission Statement: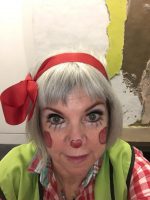 My mission is to represent toys as art and art as toys! Creating a place where the ART of the Toy Designer can be displayed, appreciated, and sold as art.  To offer information about the art and artists while creating an environment for the collector to explore and appreciate TOYS as ART, thus expanding their knowledge and collections.  This will be achieved thru a virtual online gallery. AOT will provide a pleasant facility that will inspire and support toy designers, artisans, and collectors alike. Art Of Toys will provide a resource to network for artists to share creativity while allowing collectors to see the inspirations and visions of the artist.
This site will be an ongoing place to share knowledge and art, so please enjoy and feel free to contact us and share any questions or knowledge or suggestions for new artists.
Thank you,
Terri Rehg
Owner of Art of Toys
Policies
CONTACT US
If you prefer to place your order on the phone or are having problems with site, please feel free to contact us at 916-446-0673, Monday thru Friday 9:00 am to 5:00 pm, Pacific Standard Time.
If you have product questions, need additional information or pictures you can email us arttoyssac@gmail.com and we will assist you as soon as possible. As we build this site we would love your feedback and suggestions to make it easier to use and make it a fun experience!
ART AVAILABILITY
Art Of Toys is offering many one-of-a-kind artwork pieces and vintage toys. The site is updated daily and artwork is in stock unless otherwise noted. We try to remove or note any sold-out items at once. Often an artist can create a similar item, so if something is no longer showing, email us and we will try to help source another creation from the artist that is in the same context or inspiration, understanding that being handmade it will never be exact replica!
Vintage toys—We tend to buy multiple lots of vintage toys (the buyer is a compulsive collector) so we might often have several versions of the same item all in different levels of repair—so again, if the Howdy Doody you saw on the site last week is gone, check with us, for we might have another in the gallery.
PAYMENT METHOD
Art Of Toys accepts VISA, MasterCard, American Express, and PayPal. All charges are processed prior to shipment, and your card will not be charged until we are ready to ship art or toys. Charges will include cost of shipping and sales tax if located in the state of California unless otherwise noted on art site. Paypal is currently being used to facilitate transactions but you do not need to join PayPal to use!
GIFT WRAP
We love details! Getting a beautiful piece of art or toy wrapped as a gift is our pleasure to send. We wrap in white and tie it up with a  primary grosgrain ribbon and sticker with our logo so you or the recipient know that this is from Art Of Toys. If you are creating a special gift by combining several items and would like us to wrap as one, just put in the comments section or email us.
PROVENANCE
A great practice when collecting is to keep track of the provenance of the art or toys. This can be a chore but for most is part of the pleasure of collecting. We will include a basic "Provenance" form for every item in the "Art" and "Vintage" categories. Will include any info we have on hand and history of ownership and artist.  We will list updates on the blog as more info is found or shared from other collectors.
ARTIST BIOS
Along with the Provenance form, we will include an artist bio as well as a list of any publications that are known to have information about artist.
PRICING AND CORRECTIONS
We try to be as accurate as possible, but occasionally errors might occur. We reserve the right to make corrections to price and or other information without prior notice. We would notify you first before charging your account if there were any changes that affect your choices. We must protect our artists as well as collectors' value and investment in their art.
COLORS AND VARIATIONS
We have attempted to duplicate the exact color of all the art on the website, but in this process we have found from computer to computer or printer to printer the color is not always the same. We do photograph every art and vintage item to help control the consistency, but variations do occur and we hope you embrace these details that add to your one-of-a-kind artwork.
SALES TAX
If you are a resident of the state of beautiful sunny California you will be charged sales tax on the value of the purchased item. Nonresidents will not be charged sales tax.
SHIPPING CHARGES
We ship out within two business days after receipt of an order. Weekends and holidays are not considered shipping days. Shipping charges are based on total weight rates as established by USPS. Additional shipping charges for expedited delivery on oversize items may be charged. We will ship best and cheapest method for oversized crated items, which will be noted in comments of item. Delivery times can vary depending on the shipping method and your distance from our offices in Arcata, California.
We reuse and recycle supplies, boxes, packing peanuts, and bubble wrap whenever possible. Many of our shipping boxes have been on previous trips, so please excuse any extra stickers or markings!
Please make sure your address is your current shipping address. Delivery is only ensured to the specified address and not to a particular individual. UPS requires a signature if the package is delivered to an apartment, condominium, or business; the package contents are valued at more than $150; the driver feels it is not safe to leave package.
International Orders—please call us at 916-446-0673 or  email us arttoyssac@gmail.com for a shipping quote. We love to ship internationally and will use the best available method to ship. International orders vary depending on the item and origin. All duties and/or taxes are the recipient's obligation. Please allow up to 10 days for paperwork verification. We are unable to provide an estimate for duty or VAT, which will be required upon delivery. Because international orders are subject to special security checks and export regulations, we might not be able to ship. We will notify you as long as a viable email address is provided.
We will email you a confirmation of shipment with a tracking number.
RETURNS
We love the art and toys we offer on this site and want you to be as happy with your purchase. If in any way your expectations were not met and you wish to return or exchange a standard unused item, you may mail the item back to us within 10 business days of receipt. Please repack the item very carefully, for the artists have put many hours of creativity and work into every piece.
Ÿ  Items returned must be in new, unused condition in their original packaging with all accessories, provenance and paperwork.
Ÿ  Return the packing list included with your shipment, and confirm that it lists your name, correct address, and daytime phone number.
Ÿ  Please write the reason for return on the backside of the packing list.
Ÿ  Insure the entire value of the package for protection against loss or damage
All shipping charges are your responsibility. Credit in the amount of purchase price, excluding shipping charges, will be issued to the same credit card account as used in the original purchase. We will credit your account upon receipt, but please allow at least 24 business days from the date of return for the credit to be processed, depending on your credit card company.