Description
Baby Bear Hand Puppet by Sis is an original one of a kind felt stitched hand puppet from 2018 Storybook Series created for Art Of Toys Puppet Show gallery window. Puppet is a comfortable lightweight hand puppet that can be used by and adult or child. You will love the small little details! Make a fun decor piece of toy art or a hysterical wine bottle cover for a fun friend or family gift!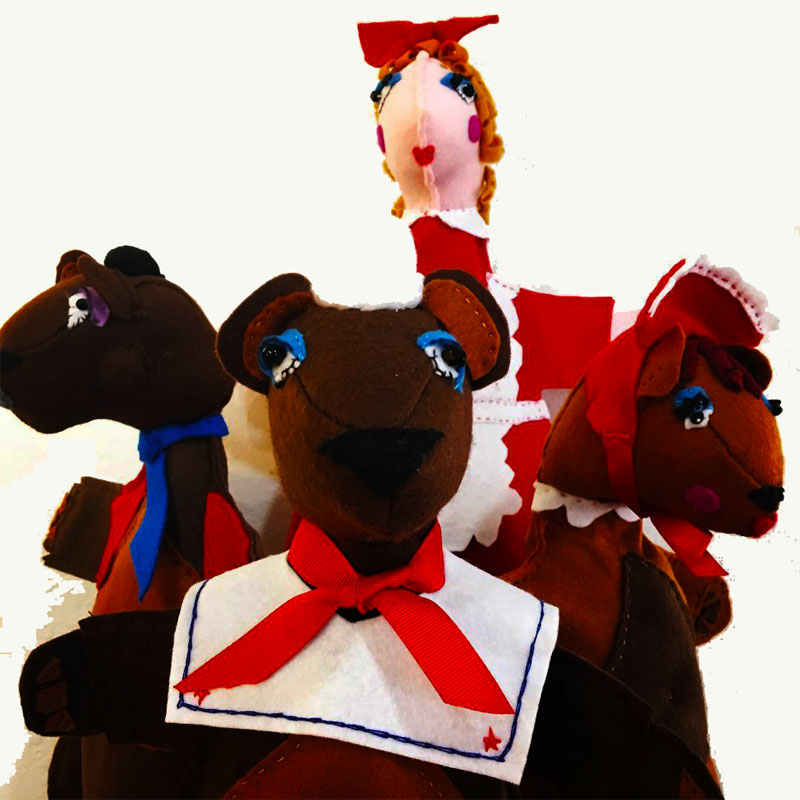 Goldilocks and Three Bears Hand puppets by Sis
"Goldilocks and the Three Bears" (originally titled "The Story of the Three Bears") is a 19th-century fairy tale of which three versions exist. The original version of the tale tells of a badly-behaved old woman who enters the forest home of three bachelor bears whilst they are away. She sits in their chairs, eats some of their porridge, and sleeps in one of their beds. When the bears return and discover her, she wakes up, jumps out of the window, and is never seen again. The second version replaced the old woman with a little girl named Goldilocks, and the third and by far most well-known version replaced the original bear trio with Papa Bear, Mama Bear and Baby Bear.
What was originally a frightening oral tale became a cozy family story with only a hint of menace. The story has elicited various interpretations and has been adapted to film, opera, and other media. "Goldilocks and the Three Bears" is one of the most popular fairy tales in the English language. Wikipedia