Description
Käthe Kruse Angel Doll is a darling  6 inch soft handcrafted angel from Germany. You will love the sweet little face and body dressed and ready to take flight. This is a wonderful well crafted playdoll and or decoration for the holidays. These come in 3 different hair color- brunette, red and blond with the redhead showing here.
In the Beginning
It became known there was a young mother in Berlin making play dolls for her children and in 1910, Käthe Kruse was asked to exhibit her handmade creations in Berlin´s department store Tietz. Her charming dolls were an overwhelming success. Dolls were not a new idea, but these didn´t look like little adults, they looked like children. Adults loved the dolls for their naiveté and children could identify with them. New York´s famous FAO Schwarz ordered the first 150 Käthe Kruse dolls in 1911.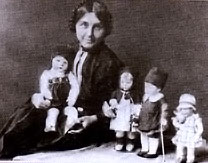 Over 100 Years of Dolls and Toys
Käthe Kruse products are designed and made to last not only throughout childhood, but can last for generations. Respecting our company philosophy, Käthe Kruse does not mass-produce products but they are individually handmade, giving them their typical Kruse charm. Fabrication of all Käthe Kruse products takes place in Germany and Latvia at company owned and managed facilities.
Guiding Principles
Käthe Kruse holds these principles:
Authenticity, trust, quality and safety – Käthe Kruse adheres to the founders ideals for products with lasting value
Age appropriate development – our dolls and toys encourage creativity, foster learning at one's own pace, and promote cooperative play
Unique design – Käthe Kruse toy designers innovate and create toy worlds and themes
Handcraft – All Käthe Kruse products are made with handcrafted details Social standards and environmental consciousness – Each employee, supplier, and customer is treated with respect, dignity and fairness and we strive to operate in a sustainable eco-efficient way
Today the German brand Käthe Kruse stands for dolls, toys, home accessories and children´s fashion, and represents innovation in toys for children and doll lovers of all ages.