Description
Marilyn Radzat Art Doll Winter's Bride is an one of a kind piece, hand sculpted in Prosculpt clay. Her costume is created with antique wedding veils, antique wax flowers and exquisite antique metallic laces. What energy do these pieces of old fabric hold? What stories could they tell? Secrets imprisoned within the fabric folds.
Artist Statement:
I was inspired by the juxtaposition of innocence expressed by a white wedding gown and the experience of vampire being.  Her body movement and expression suggest that she has been caught in a moment…..is she fleeing the scene? Is she escaping her destiny… Has she taken her lover with her into eternity? She has stopped…for a moment….to look back…..She is puzzled….worried…has she been caught? The base on which she stands, is created with abalone shards mounted upon an antique metal filigree base.
Note: Artist Bio and provenance will be included. Will be double boxed and insured.
FREE SHIPPING ON THIS ITEM IN USA!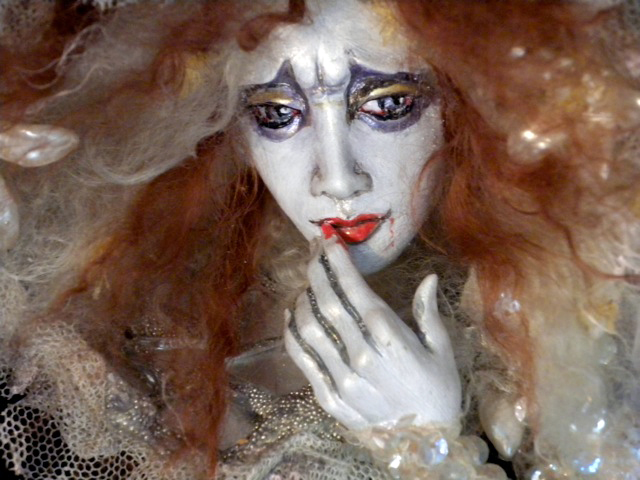 For more information on Marilyn Radzat click below!